Introducing Woo Store Vacation PRO 1.8.1
The new update is here to ensure your getaway is as smooth as a piña colada on a tropical evening! 🍹
The Woo Store Vacation PRO 1.8.1 update is here, armed with potent features that promise to not only make your vacation hassle-free but also enhance your customers' experience. In this post, we'll delve deeper into these features, designed to captivate shop owners like you.
Assigning a Notice to Force Close
Our plugin has an exceptional feature that users love – the Force Close option. With just one click, you can close your online store instantly, without the need for scheduling. We value your feedback and have something new to reveal!
The main reason behind the popularity of Force Close is its flexibility. Imagine those times when you needed to close your shop without a fixed reopening date in mind. You simply hit that checkbox, and when you're ready to welcome customers again, you uncheck it. Easy, right?
Now, here's the exciting news: You asked for it, and we delivered! With the plugin 1.8.1 update, you can now assign a Vacation Notice to your Force Close. This means you can have the same level of control and customization that you enjoy with the Schedule and Weekday options. When you activate Force Close, your selected vacation notice, tailored to your preferences, will be displayed to inform your customers about your shop's temporary close. It's all about ensure your vacation communication is smooth and easy to use.
Introducing New Smart Tags
In our constant investigation to enhance your user experience, we're excited to introduce you to new Smart Tags. These awesome updates are designed to transform your vacation notices into dynamic, personalized messages that speak directly to your customers. But that's not all – we've also made using these Smart Tags incredibly easy!
Here's the scoop: In the 1.8.1 update, we've introduced a new Smart Tags selector, and it's here to simplify your life. This selector sits above the Message fields on the Notice page when you click on it and select an option, voilà! The tag magically appears at the end of your Message text content.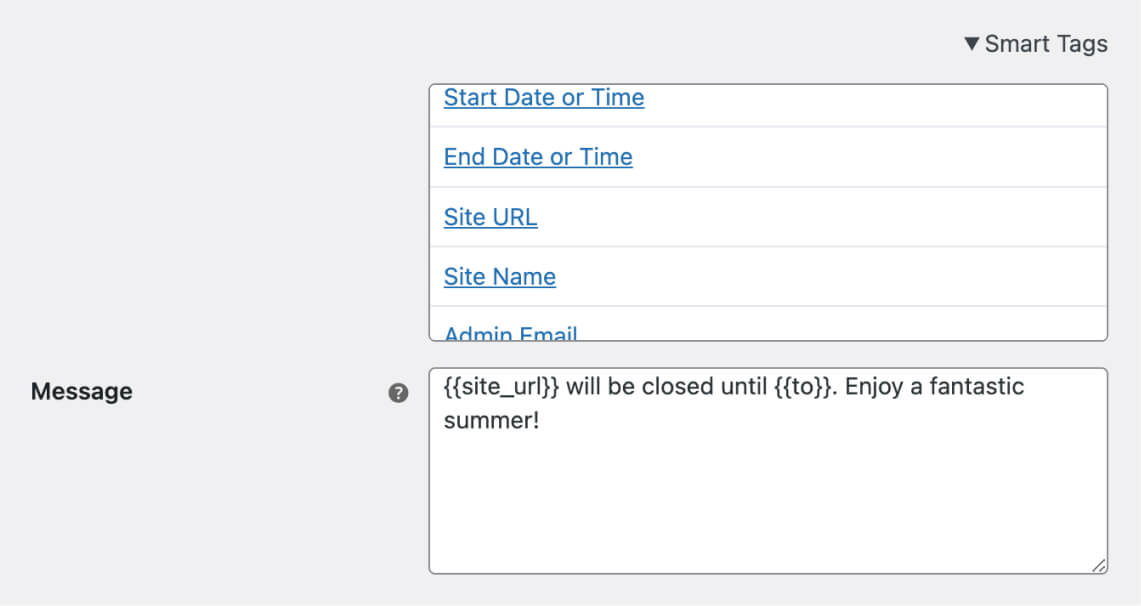 But what can you do with these Smart Tags? In addition to the trusty Start and End date tags from the previous version, you can now use Smart Tags to effortlessly include your Site URL, Site Name, and Admin Email.
You can discover the full potential of Smart Tags in our comprehensive documentation.

Unwind. Pause. Thrive. Woo Store Vacation
Notice Display Type
Your vacation notice is the opening act for your customers' journey on your site during your absence. Crafting a visually striking and user-friendly notice is paramount. Enter the Notice Display Type feature.
Version 1.8.1 offers two tantalizing options for showcasing your notice:

Default: This option retains the classic box-style notice, aligning with the layout of WooCommerce notices.
Announcement Bar: If you want to make a strong statement, consider using the Announcement Bar. It flaunts your notice as a sleek bar atop your pages, instantly grabbing your customers' attention.
But wait, there's more! The Announcement bar comes with a variety of customization settings: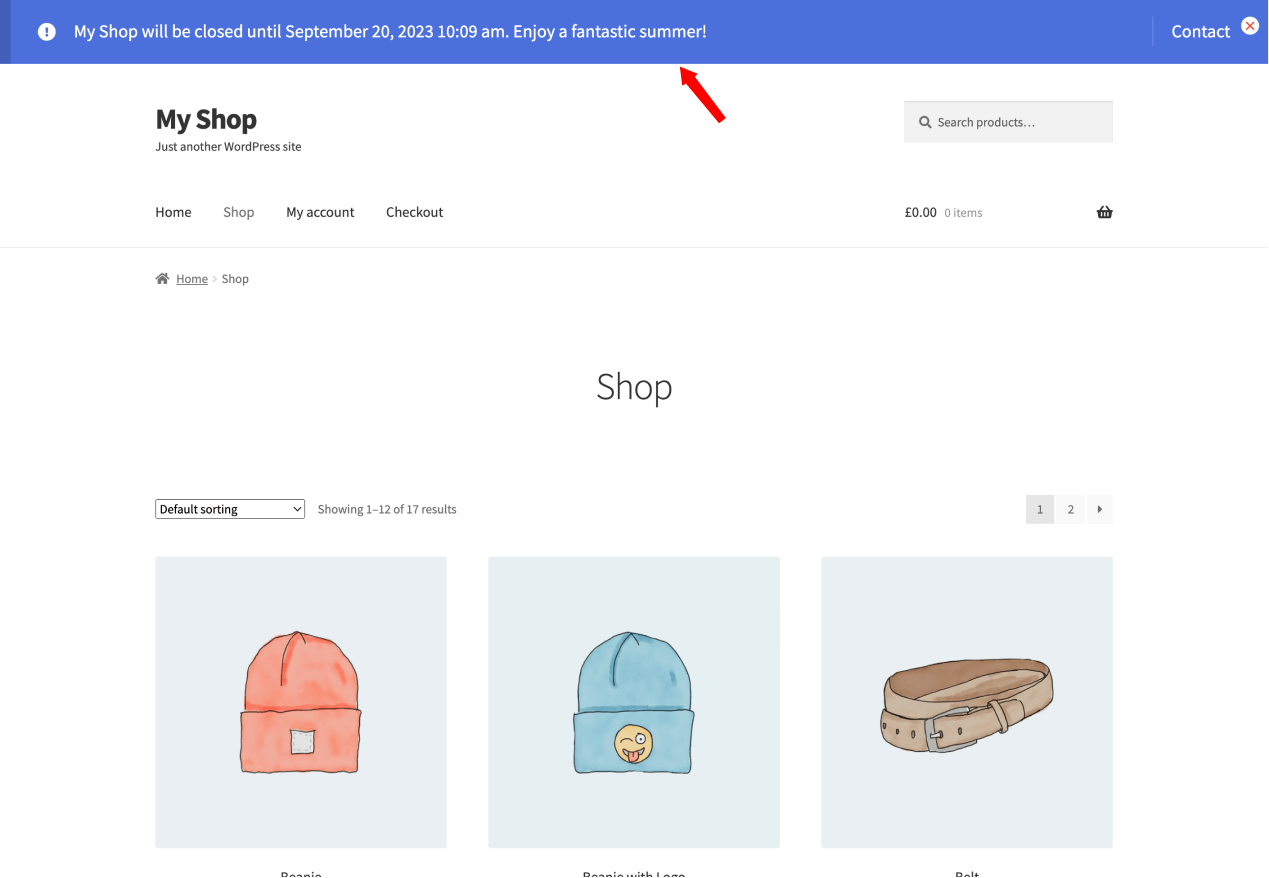 Colorful Theme: Infuse life into your notice with a background color animation, making it visually captivating.
Animate Entrance: Greet your visitors with a playful bounce animation as your page loads.
Fixed Position: Keep the bar firmly anchored at the top as users scroll, ensuring it remains visible.
Dismissable Bar: Enable this feature to add a close (x) button to your notice, allowing users to remove it at their convenience.
Cookie Expiration: Set a duration for the notice to remain hidden if users decide to click the close button.
These options grant you the power to tailor your notice's appearance to your brand and enhance the user experience.
Conclusion
As we wrap up our journey through the Woo Store Vacation PRO 1.8.1 update, it's clear that we're on a mission to make your vacation as smooth as a freshly shaken cocktail. With the ability to assign notices to Force Close, harness the potential of Smart Tags, and customize your notice's appearance with Notice Display options, we've put the control back into your hands.
Your online store is an essential part of your business, but so is your well-being and the need for a well-deserved break. With these features, you can confidently step away from your digital domain, knowing that your customers will be informed and engaged in your absence.
Cheers to Hassle-Free Vacations and Memorable Shopping Experiences with Woo Store Vacation PRO! 🌴🥂